Korean beauty products prioritize sun protection and moisture to keep skin healthy and plump — which is a remarkable change from the harsh scrubs and ingredients found in most Western products.
While picking these foreign beauty products can be challenging, you can look for Korean beauty products on Amazon — which leads to a plethora of innovative yet gentle products to add to your collection.
On Amazon, you will also find the new and amazing products with gentle ingredients —, such as herb-controlled ampoules, chia seeds, and even toothpaste with honey bee propolis. The Korean beauty community isn't timid about attempting new things, nor am I for that matter. Actually, I'm most interested in natural ingredients and products I've never tried or heard of — and I'm careful to test to ensure that I'm not allergic to the things I'm testing out. But if you don't experiment, you'll never learn that apple water can actually clear up whiteheads.
1. THIS AHA LIQUID THAT CLEARS WHITEHEADS WITH APPLE WATER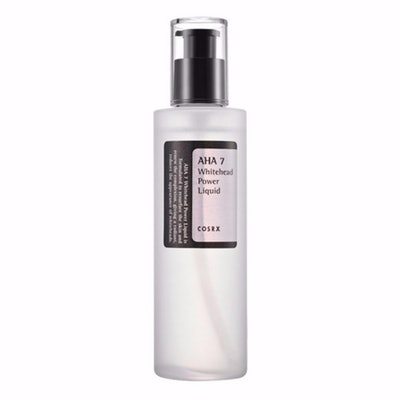 Cosrx AHA 7 Whitehead Power Liquid, $14, Amazon
Through the power of apple water and glycolic acid, this whitehead power liquid renews skin and gets rid of whiteheads in the process. The addition of alpha hydroxy acid (AHA) helps to remove dead skin gently — without having to scrub and irritate your skin —and reveals the fresh, smooth skin beneath.
2. THE CLEANSING FOAM THAT CLEARS PORES WITH VOLCANIC ASH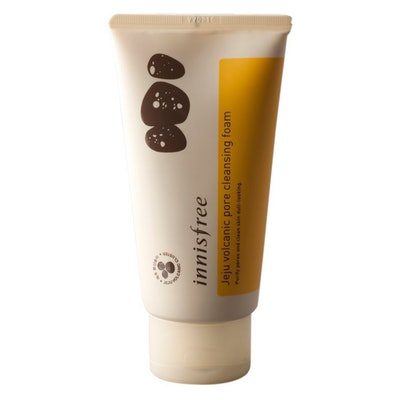 Innisfree Jeju Volcanic Pore Cleansing Foam, $15, Amazon
Cleansing foam is a staple in Korean beauty routines — especially for oily skin — because the foam cleans really deeply into pores, which is exactly how this volcanic pore cleansing foam works. Plus, it's packed with volcanic rock and ash from the historic Jeju Volcanic Island that works to absorb excess oil.
3. THIS ALL-IN-ONE AMPOULE THAT FILLS IN THE GAPS IN YOUR ROUTINE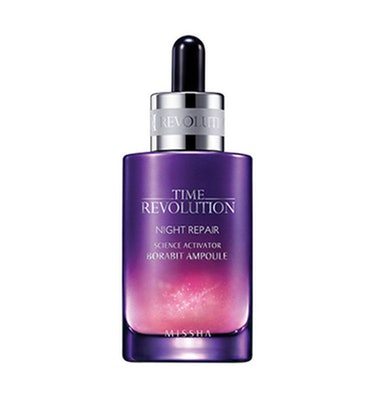 Missha Time Revolution Science Activator Ampoule, $26, Amazon
This multi-tasking ampoule aims to balance out your skincare routine, acting as a substitute for every step you may be missing. It promises to reverse damage, restore moisture, and even repair your moisture barrier — thanks to the help of a long list of antioxidants and ingredients like Fermented Bifida. If you're looking to minimize your routine while still embracing the Korean skincare method, this is for you.
4. THIS LIGHTWEIGHT MAKEUP CUSHION WITH HEAVY DUTY SKIN PROTECTION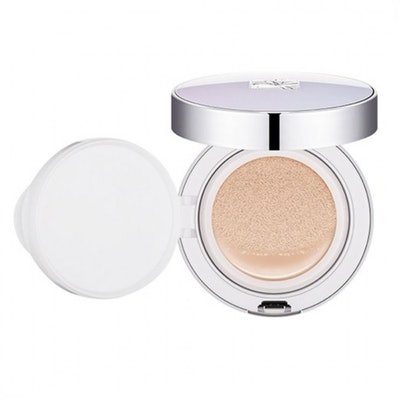 Missha M Magic Cushion SPF50+, $11, Amazon
This makeup cushion from Missha truly is magic, offering lightweight, buildable makeup coverage for "no-makeup makeup days," and SPF 50 to shield you from UV rays. Its formula also includes a super fine mixture of silica beads that absorb sweat and sebum throughout the day, keeping your skin matte.
5. THIS OIL-FREE COLLAGEN LOTION THAT PLUMPS SKIN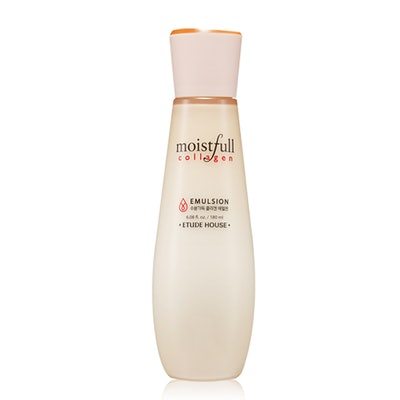 Etude House Moistfull Collagen Lotion, $14, Amazon
This lotion from Etude House is packed with collagen, aiming to plump up and deeply hydrate tired and dry skin. Whether you live in a dry climate or are just trying to bring some life back into skin, this lotion is the answer. Amazon reviewers with sensitive skin love it, with one saying, "It doesn't make my skin too oily and doesn't make me break out. My skin is always soft and smooth after I use it."
6. THIS BALANCING TONER THAT HARNESSES THE POWER OF GREEN TEA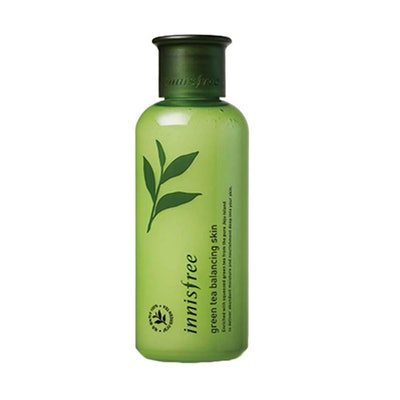 Innisfree Green Tea Balancing Skin, $11, Amazon
Is there anything that green tea can't do? This balancing skin — in the Korean beauty world, a "skin" equals "toner"— uses the power of green tea leaves and green tea seeds to deliver amino acids and a variety of minerals right to your skin for balanced, thorough moisture, absorbing quickly without leaving any stickiness or residue behind.
7. THIS ACNE-HEALING AMPOULE THAT'S POWERED BY CENTELLA ASIATICA EXTRACT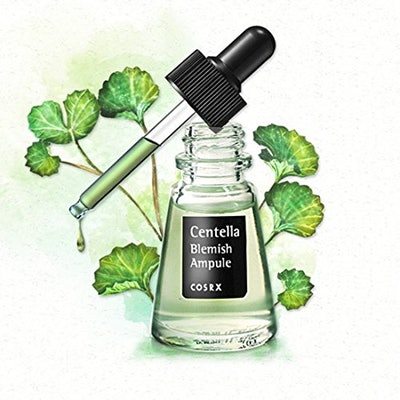 Cosrx Centella Blemish Ampoule, $18, Amazon
This blemish ampoule is formulated with highly-concentrated centella, aka pennywort, which is an herb with naturally anti-inflammatory properties that's been used for generations to treat damaged and irritated skin — making it perfect for combatting acne, sunburns, excessively dry skin, and more. Dab some on a blemish and expect it to chill out by morning.
8. THIS REPLENISHING POWDER FACE WASH WITH RICE BRAN & PAPAYA ENZYMES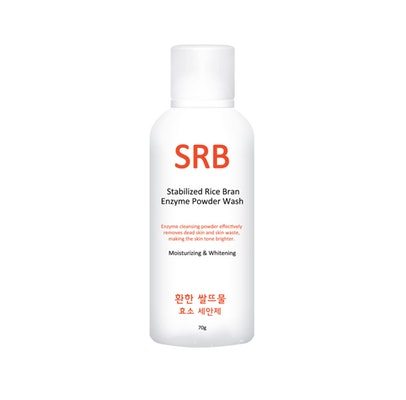 Rice Bran Enzyme Powder Face Wash and Scrub, $25, Amazon
This powder face wash offers more than 50 different kinds of nutrients, enzymes, and antioxidants all from rice bran and rice germ, making it way more powerful than standard rice extract in rice water or rice oil. Add water to the powder — more for a wash, less for a more exfoliating experience – and you'll be on your way to cleaner and brighter skin. It's especially great for sensitive skin.
9. THIS SUPER HYDRATING CREAM THAT NOURISHES WITH CHIA SEED EXTRACT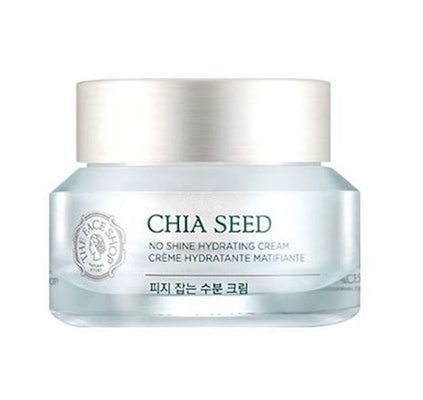 The Face Shop Chia Seed No Shine Hydrating Cream, $16, Amazon
This hydrating cream successfully manages to moisturize the skin without making it oily. Plus, it's made up of more than 70 percent chia seed extract and devoid of water as a filler, meaning more nutrients and nourishment for your skin. One Amazon reviewer raves, "I love how this chia seed moisturizer absorbs right into my skin and doesn't leave me greasy."
10. A NATURALLY SWEET TOOTHPASTE MADE WITH PROPOLIS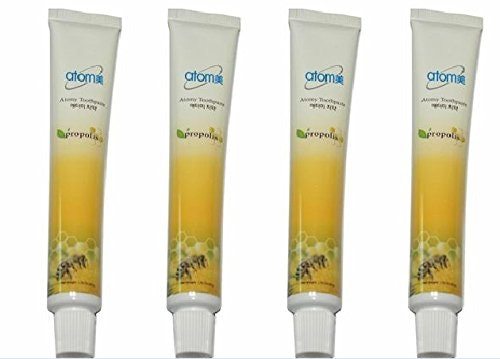 Atomy Propolis Natural Toothpaste, $12 (5 Pack), Amazon
You may be familiar with how propolis is used in Korean beauty for skincare, but how about oral care? This entirely natural toothpaste is powered with bee propolis, as well as green tea extracts, orange oil, and more to clean teeth gently without harsh ingredients that cause sensitivity. Amazon reviewers say it keeps their breath fresh and has a super sweet taste.
11. THIS CLEANSING OIL THAT THAT COMBINES COCONUT & APRICOT OILS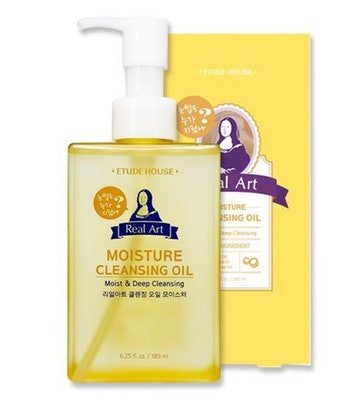 Etude House Real Art Cleansing Oil, $14, Amazon
This cleansing oil removes even the most stubborn waterproof eyeliner, transfer-proof liquid lipstick, and hardcore foundation with ease, utilizing coconut, grape seed, and apricot kernel oil. The oil cleansing method is an early step in most Korean beauty routines, and this product combines some of the most popular oils of choice all in one.
12. THE SPRAY MIST THAT'S MADE OF HONEY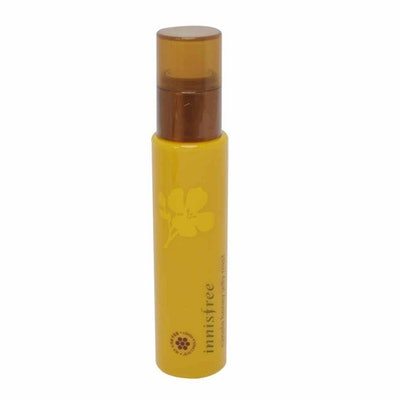 Innisfree Canola Honey Jelly Mist, $11, Amazon
More than 40 percent of this mist is pure canola honey extract from the Jeju Volcanic Island — and it provides serious, thick hydration in a light, spray mist format. If you're looking for a sweet shot of nutritious moisture to refresh your skin throughout the day, this is the perfect thing to stash in your purse or the car.
13. THIS BB CREAM THAT'S TOTALLY WATERPROOF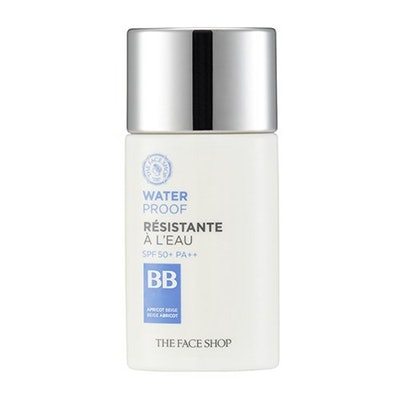 The Face Shop Face it Water Proof BB Cream, $15, Amazon
This BB cream offers everything: solid coverage, all-day performance, excellent sun protection, and best of all, it's completely waterproof. So whether you anticipate that your day may involve a lot of sweat or even a rain shower, this BB cream is the right tool, keeping your skin safe from the sun on days you want to wear makeup.
14. THIS PEELING JELLY MADE WITH RED WINE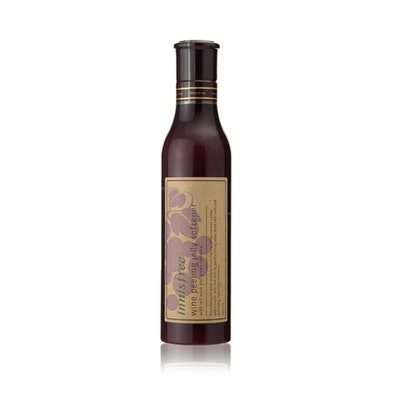 Innisfree Wine Peeling Jelly Softner, $12, Amazon
This peeling jelly from Innisfree puts the antioxidant effects of red wine to work, softening your skin while also removing dead skin cells. It even brightens your complexion and balances uneven texture, with a delicious grape scent that Amazon reviewers love.
15. THIS EMULSION THAT NOURISHES WITH BEE VENOM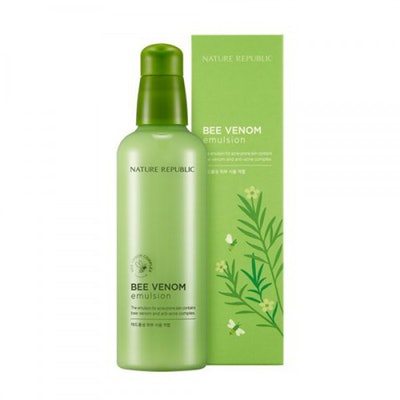 Nature Republic Bee Venom Emulsion, $12, Amazon
This emulsion is used as a toner after cleansing but before applying other products, readying your skin for the next skincare steps and employing the surprisingly gentle and nourishing power of bee venom. As an early step in any routine, it aids in moisturizing and keeping dead skin cells at bay.
16. A TONER POWERED BY HARAKEKE EXTRACT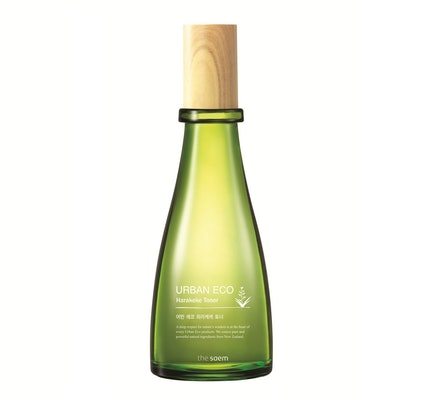 The Saem Urban Eco Harakeke Facial Toner, $17, Amazon
There's no alcohol in this harakeke facial toner. You also won't find parabens, artificial coloring, or animal ingredients in here, because it's eco-friendly and made up of more than 90 percent harakeke extract — a type of evergreen plant native to New Zealand known for its hydrating qualities. It's also fortified with manuka honey and calendula extract.
17. THIS PEELING GEL THAT WORKS LIKE A DEAD SKIN ERASER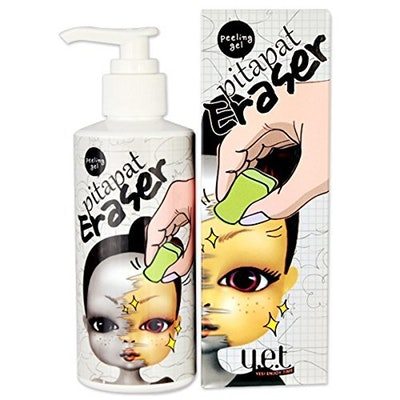 YET Pitapat Eraser Peeling Gel, $16, Amazon
This peeling gel functions like an eraser for your face, effectively removing dead skin cells and revealing the smooth, fresh skin underneath for a glowing complexion. It works a lot like a massage, as you apply the product in a circular motion all over your face, removing excess sebum in addition to the dead skin. Plus, Amazon reviewers with sensitive skin approve.
18. THIS INVISIBLE GEL SUNSCREEN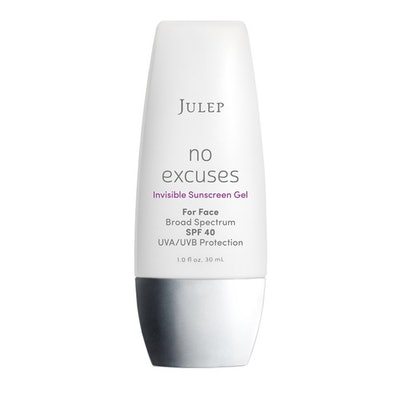 Julep No Excuses Invisible Sunscreen Gel, $28, Amazon
Hate putting on sunscreen? This gel goes on completely invisible, dries instantly, has SPF 40, and can be worn under makeup. In addition, it's made with rosehip oil to soothe and melon extract to brighten skin.
19. THIS HIMALAYAN SALT CLEANSING BALM THAT MELTS RIGHT INTO YOUR SKIN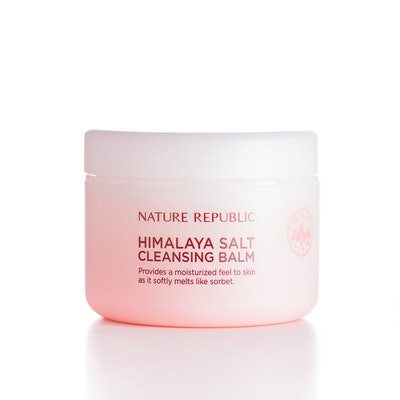 Nature Republic Himalaya Cleansing Balm, $17, Amazon
This cleansing balm melts from a balm consistency into a cleansing oil on your skin, for deep cleansing and stubborn makeup removal. Its key ingredient is Himalayan salt, which is one of the most mineral-rich salts on the skincare market, nourishing your skin as your cleanse at the end of the day.
20. THIS SHAMPOO THAT DELIVERS MAJOR VOLUME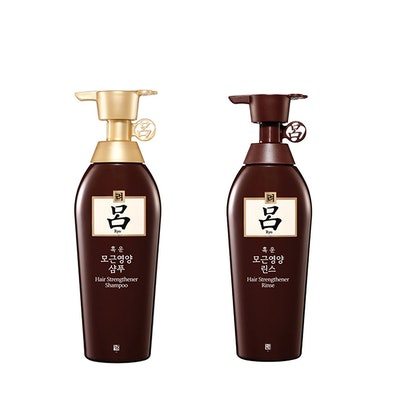 Ryoe Korean New Root Volume Shampoo and Conditioner, $29, Amazon
This shampoo and conditioner duo is one of the most popular in all of South Korea, promoting root and scalp health for impressive volume. Their not-so-secret ingredient is pickled bean, which helps reinforce roots for coveted volume that sticks around all day despite humidity and wind. Between the cleansing shampoo and hydrating conditioner, this power couple gets the job done.
21. THIS HAIR COLOR THAT NOURISHES INSTEAD OF IRRITATING YOUR SCALP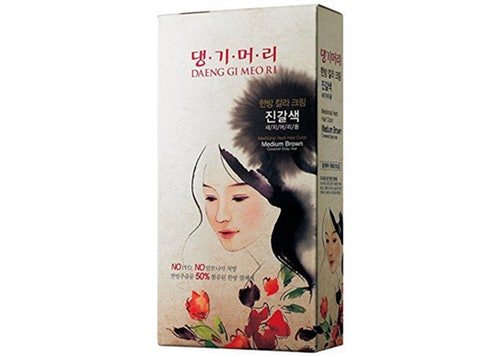 Daeng Gi Meo Ri Medicinal Herb Hair Color, $16, Amazon
This hair color is ideal for covering gray hair and fixing up your roots, without irritating your scalp or damaging hair — because it's much gentler than traditional dyes. Half of its formula is comprised of herbal extracts, including ginseng and mugwort, as opposed to harsher colorants that burn your skin. It's even ammonia free, devoid of that alkaline smell.
Mindful Wallet may receive a portion of sales from products purchased from this article, which was created independently from Mindful Wallet's editorial and sales departments.